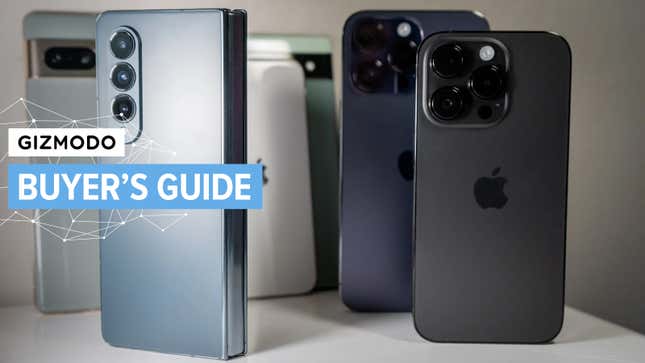 The smartphone audience is so wide that it's difficult to settle on just one best phone of 2023. Some of us want huge screens, fast processors, and tons of memory. Other people want the very best camera so they can share photos on social media. And then there are the folks who want the best budget phone and/or best small phone (they're often the same thing), just something simple and cheap that will easily fit in a pocket.

The iPhone SE Offers Almost Everything You Want In An iPhone
Your personal decision about what smartphone to buy starts, like many things, with picking a side: Android or iOS? The Google-backed Android operating system is the world's most popular, with more than 70% market share around the globe, in large part because it's cheap and used by lots of small companies in developing markets. But Android's market share is trailing behind Apple in the U.S. and Canada, and iPhones recently scored more than 50% of the total US market for the first time ever.
What phone should I buy?

New hardware lines have complicated the buying decision. In the Android world, Samsung gave up on its Galaxy Note line but doubled down on foldables with the Galaxy Z Flip series and Z Fold 4. Non-folding options like the Galaxy S23 Ultra are exciting, too. Oppo, which has a massive audience overseas but is working to attract more global attention, is coming for Android fans with attractive clamshell options like the Find N2 Flip. And Google's new Pixel 7 and Pixel 7 Pro feature some of the best smartphone cameras we've ever tested. They also pack Google's second-generation Tensor chip, unlocking sophisticated AI-powered features like scrubbing people out of pictures.

Meanwhile, on the iOS side, Apple's new iPhone 14 Pro is one of the company's best phones ever and even makes a strong case for ditching Android entirely. And the regular iPhone 14 impressed us with its photography skills compared to the Pixel 7.
We've got recommendations for people on both sides of the iOS/Android divide, along with some picks for people looking for a more affordable fare.
What smartphones are coming this year?
Google is reportedly working on a version of the Pixel Fold that's set to challenge Samsung's Galaxy Z Fold 4—it could be as soon as June 2023 when we see it launch. According to a Korean news outlet, Samsung may also come a little earlier with its next-gen foldable this year in an attempt to keep Google's hardware at bay (and increase its chances of regaining some profit).
We also expect to see the Pixel 7a launching soon, so definitely hold off if you're hoping to buy the most current budget device.
The iPhone 15 will launch this fall, but there's no fourth-gen iPhone SE (it's a bummer, too, because it was rumored the SE 4 would be Apple's first foray into making its own mobile modems). If you're more interested in buying a phone right now, we've got you covered below.
The editorial staff of Gizmodo independently test and review each product found in our Buyer's Guides. If you purchase something using our affiliate links, G/O Media may earn a commission. Affiliate linking does not influence our editorial content.
---
The Best All-Around Phone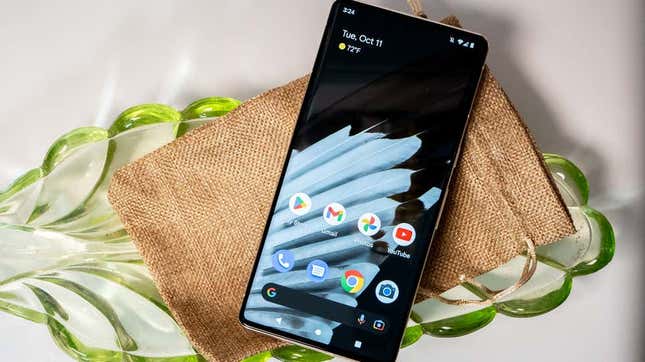 Our Pick: Google Pixel 7 Pro
If you've already picked a side in the Android vs. iOS fight, you can't go wrong with either the Google Pixel 7 Pro or Apple's iPhone 14 Pro. Both devices get you the best Android and iOS have to offer and are the most recent releases from each camp.
But if you want the very best, regardless of platform, there's a clear choice: The Google Pixel 7 Pro ($899) is the one to get. It ships with the latest version of Android and the second-generation Google Tensor G2, which is the key to some of the Pro's unique AI smarts. Apple users might not be willing to swap because of having to deal with Android, but when it comes to hardware, we like the Pixel.
---
The Best Apple Phone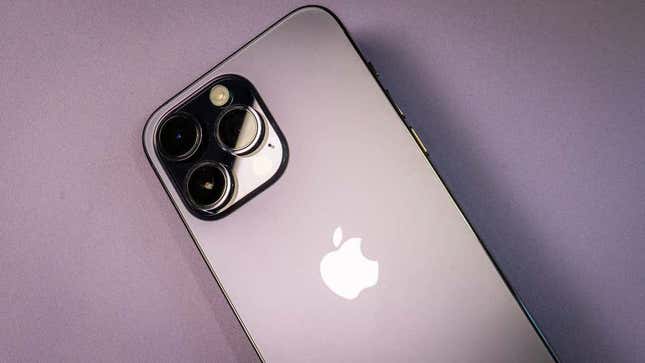 Our Pick: iPhone 14 Pro
The iPhone 14 Pro ($999) pairs nicely with the new features on display in iOS 16—especially custom Lock Screens with the always-on display, which is only available on the Pro variant. The iPhone 14 Pro features Apple's improved A16 Bionic chip, which outperformed every smartphone Gizmodo reviewed this year in synthetic benchmark tests. The Pro is also part of the iPhone 14 family, which is the first iPhone line to offer car crash detection and emergency SOS via satellite. If you're the kind of person that treks out where service is minimal, the iPhone 14 Pro is worth considering for that feature alone.

---
The Best Android Phone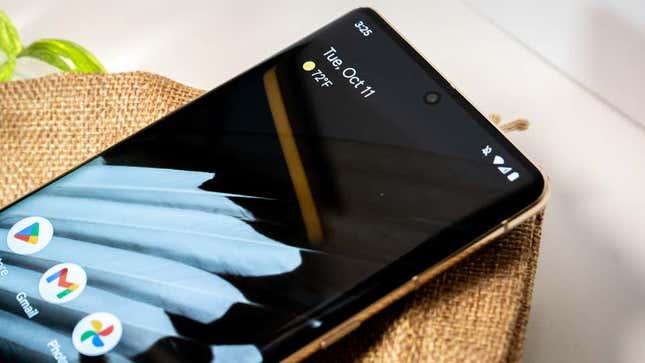 Our pick: Google Pixel 7 Pro
We said it above and we'll say it again: The Google Pixel 7 Pro ($899) is the best. The Google Pixel exists as a specific flavor of Android, just the way Samsung's rolled with it all this time. You're not getting a stock version of the operating system anymore: you're getting a version of Android made in Google's image, complete with Material You stylings and exclusive feature drops. The idea is that if you choose this path, you have perks. Pixels now include robotic help with customer service via Direct My Call and AI magic for unblurring old photos. They also include the most up-to-date software updates directly from the steward of the operating system itself.

---
The Best Value Phone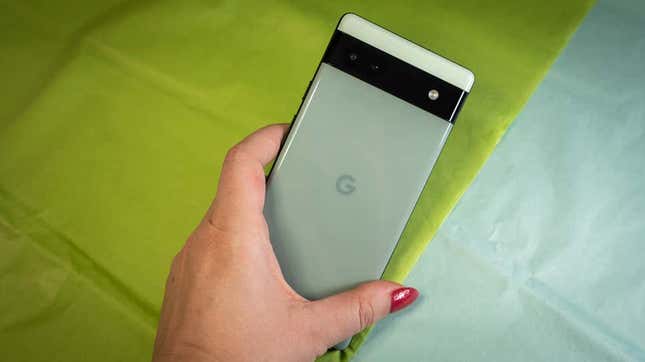 If you absolutely can't wait: Google Pixel 6a ($450)
There isn't a better deal for Android users right now than the Google Pixel 6a. Not only does it boast the new look of the other Tensor-powered Pixels, but it uses the same chip as the excellent Pixel 6, too. That makes the Pixel 6a a steal: it has all the best parts of a Google flagship without the price tag. It's stylish, offers unique features facilitated by the Tensor chip, and will receive timely software updates directly from Android headquarters—that's not something third-party Android devices can flaunt.
The Pixel 6a has a surprisingly strong camera for its price point. It's almost on par with last year's Pixel 6 flagship series. You'll notice the most difference between price points as you're taking night shots, as the Pixel 6a doesn't have the glass to capture quite as much light as its pricier counterparts. If you're looking for a smaller Android phone, the Pixel 6a has a 6.1-inch screen in a category typically dominated by giant devices.
Despite its attractive pricing, there are some drawbacks to the Pixel 6a. For one, the meager 128GB of storage will fill up fast if you shoot lots of videos. The phone's display is also limited to a 60Hz refresh rate, which is great for battery life, though it means animations will move less smoothly than on expensive devices. If the phone's refresh rate is a concern, the Samsung Galaxy A53 5G is also in this price range and features a punched-up display with a 120Hz refresh rate.
Coming Soon:
While you're likely to find some incredible deals on the Pixel 6a at this time in its lifecycle—it's been out since July 2022—you should definitely hold out for the Pixel 7a, which is likely making its debut at Google I/O 2023. Current leaks point to a higher RAM configuration in the Pixel 7a—from 6GB to 8GB—plus a display with a higher refresh rate, though it would be capped at 90Hz. There might also be wireless charging added to the device, which is a nice value-add for a phone at this price point. And if you're still not convinced, the 6a is likely to get even cheaper once the 7a is officially revealed.

Alternately, Samsung's recently announced Galaxy A54 is promising a higher refresh rate than what we expect to see in the Pixel 7a, though you'll lose out on getting Android directly from Google.
Also Consider: iPhone SE ($430)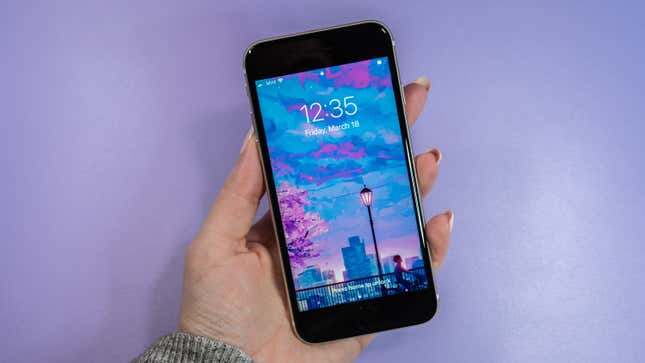 The Apple iPhone SE is the cheapest way to get a brand-new iPhone. Like the Pixel 6a and its flagship counterpart, it offers everything you could want from an iPhone, so long as you don't mind its tiny 4.7-inch screen. You could get an iPhone from the last few generations instead for around the same price, but you'd be getting an older processor and less runway on software updates. The iPhone SE has the upside of running Apple's A15 Bionic chip, which makes it nice and speedy, just like its bigger siblings. And while it doesn't have Face ID, it does have Touch ID for added biometric security, plus a battery pack that can handle a full day of active use.

---
The Best Big Phone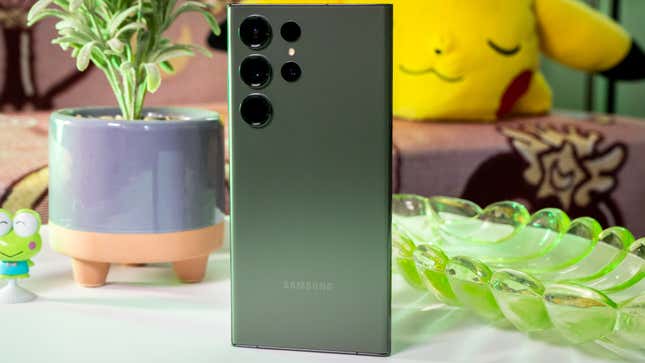 Our Pick: Samsung Galaxy S23 Ultra ($1,200)
The Galaxy S23 Ultra is better than its predecessor. It has a 200-MP primary camera with the same 100x digital zoom as the Galaxy S22 Ultra for shooting planes, trains (from far away), and birds. There are two 10-MP lenses on the back, too, that can manage up to 10x optical zoom and 3x optical zoom, respectively. Samsung has also improved its astrophotography capabilities; this is the phone you'll want to get if shooting the constellations is a priority.
The Galaxy S23 Ultra is also more comfortable to hold. Samsung made the sides more rectangular than curved, and it's better for gripping long term—especially if you're going to use that stowaway S Pen, which you can use to write, draw, crop images off the screen, or as a remote for taking selfies. The Galaxy S23 Ultra also has the best battery life of any Android device we've tested thus far. While this isn't a phone for everyone, this is an everything-you-need-whenever smartphone, which makes its $1,200 start price point a little more palatable at the end of the day.
Also Consider: iPhone 14 Pro Max ($1,099)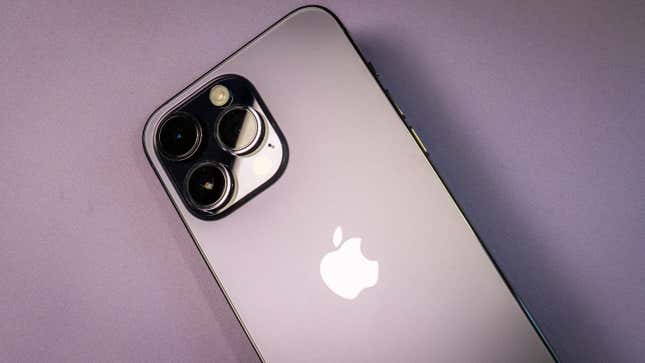 For devoted iOS users, the big-ass iPhone 14 Pro Max is the way to go if you can afford it. The iPhone 14 Pro Max is the same phone on the inside as the smaller-sized iPhone 14 Pro. It features the same A16 Bionic chip, triple array camera system, and integrated car crash detection and emergency SOS capabilities. But where it stands out is in its eye-catching Deep Purple color—though its other color variants are stunning, too. The 6.7-inch Super Retina XDR OLED display is another excellent way to showcase your creations with iOS 16's customizable Lock screens. And the iPhone 14 Pro Max has a whopping 24-hours of battery life.

---
The Best Small Phone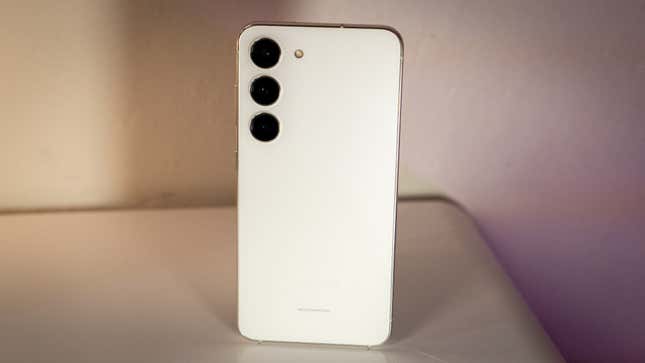 Our pick: Samsung Galaxy S23 ($800)
For Android users, give the smaller Samsung Galaxy S23 a try. This 6.1-inch device is what the doctor ordered if you're over the giant screens taking up precious pocket space. The Galaxy S23 has improved nighttime photography over its predecessors—enough to compete toe-to-toe with Google's algorithms. And although the display is smaller than the norm, it is Samsung's signature Super AMOLED with a whopping 120Hz refresh rate, so using it will feel smoother than what you'd experience with the 90Hz Google Pixel 7. The only caveat is that the small Galaxy S23 doesn't support UWB, which you might want to get the most out of what you pay your carrier each month.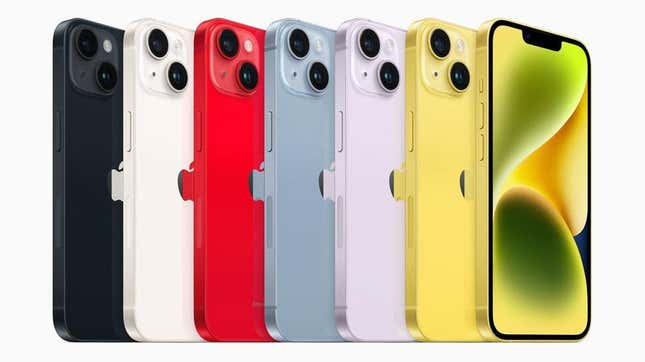 Also consider: Apple iPhone 14 ($800)
If you are still looking for a small, pocketable phone and are committed to the Apple way of life, the 6.1-inch iPhone 14 is also worth consideration. Apple bundled this device with the iPhone 13 Pro's A15 Bionic processor with a bit of extra oomph. It has one less camera than the Samsung Galaxy S23, but the additional telephoto on that device only partially pays off. The iPhone 14 also has Apple's satellite connectivity for emergencies. And it comes in a spectrum of colors, including yellow.
---
The Best Foldable Phone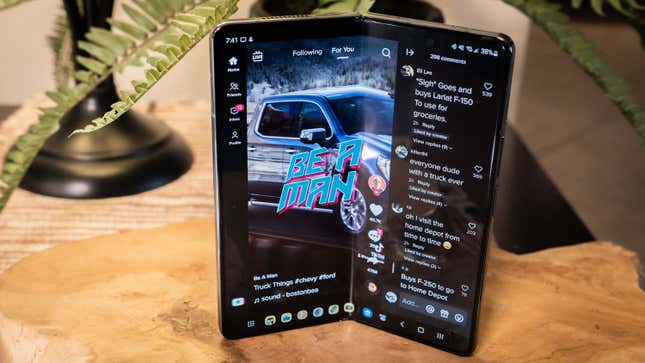 Our Pick: Samsung Galaxy Z Fold 4 ($1,800)
If you're going to buy a foldable, let yourself commit: buy the Samsung Galaxy Z Fold 4. Of all the devices I reviewed this year, the Z Fold 4 remains my number one choice for daily use. But that's also because, deep inside, I prefer using a tablet for everyday tasks like reading, watching videos, and trudging through email. I like the "widescreen" effect that you get with the 7.6-inch tablet interface on the inside and that I can fold down the smartphone to a 6.2-inch device I can drop into my bag and move about life with. And yes, this phone is a ton of money. But there have been some successful reports of discounts by trade-in.
The Galaxy Z Fold 4 has an impressive list of offerings since it's supposed to be the end-all, be-all foldable device: high-resolution AMOLED displays, a three-camera array that compares to Samsung's flagships, 12GB of RAM, up to 1TB of storage, and IPX8 water resistance–not something you typically expect from a device that perforates. It also runs the latest version of Android; the Z Fold 4 shipped with Android 12L, and it will eventually receive an upgrade to Android 13, which packs more tablet-friendly interface elements than past versions.
---
This list is updated regularly with new recommendations and product forecasts.