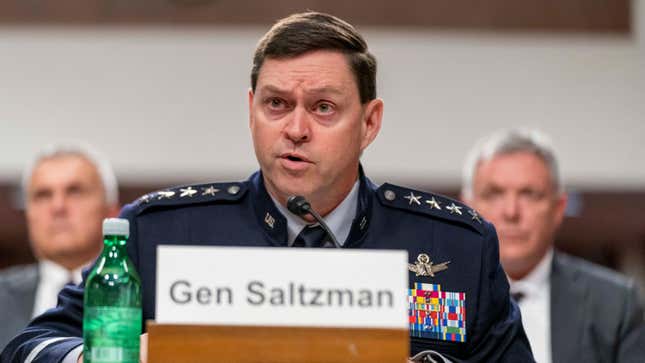 Ever since its inception in 2019, the U.S. Space Force has struggled to establish its identity. Now, a leading official at the youngest military branch is looking to rewrite its mission statement, hoping that will help clear any confusion over exactly what it does.
Chris Pratt and Bryce Dallas Howard Nerd Out About Jurassic Park's Returning Heroes
Earlier this week, Chief of Space Operations General Chance Saltzman sent out a memo to the Space Force's Guardians to express his concerns regarding the current mission statement, according to Politico. "My biggest concern is that the mission statement does not reflect why the Nation has a Space Force and the vital functions Guardians perform," the memo read. Guardians, in case you're unaware, is the name Space Force uses to describe its personnel.
On its website, the Space Force defines its mission as, "organizing, training, and equipping Guardians to conduct global space operations that enhance the way our joint and coalition forces fight, while also offering decision makers military options to achieve national objectives."
That is certainly a mouthful, and honestly, I see why Saltzman hates it. He also worries that the statement only reflects a small portion of what Space Force's personnel actually do. "Guardians operate some of the most technologically advanced systems in the world. In doing so, they deter aggression and, should deterrence fail, protect U.S. interests with military force," he wrote in the memo.
Based on the memo, it appears that Saltzman wants to emphasize the branch's scarier, more defensive side, the one that basically says, "Don't mess with America's space, goddamn it!"
Saltzman also notes that the mission statement just sounds "long and cumbersome," and likely has not been memorized by the Guardians as a result. "How many Guardians can recite the current mission statement of the Space Force?" he asked in the memo. "My guess is very few."
The Space Force chief obviously wants to rewrite the mission statement, but he doesn't want to do it alone. Saltzman asked the Guardians to submit their own mission statements, from which he plans to draw inspiration for a new one.
As the sixth branch of the U.S. Armed Forces, the Space Force is big on branding. In September 2022, Space Force released its own theme song, describing itself as the "mighty watchful eye" and an "invisible front line."
This all feels like youngest child syndrome, wanting to establish its own identity that's separate from its older siblings, and reassure just how big and scary it really is. It'll be interesting to see what the Space Force Guardians come up with, and whether it will be any improvement from the current mission statement.
For more spaceflight in your life, follow us on Twitter and bookmark Gizmodo's dedicated Spaceflight page.