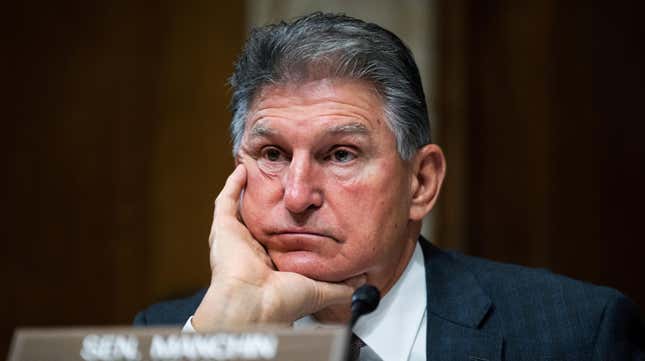 Joe Manchin won't give up on his pro-gas stove, anti-regulation crusade. The barely blue West Virginia senator single-handedly stymied a vote to confirm a key Biden Department of Energy nominee on Wednesday—all because of his personal opposition to reining in fossil fuel-powered appliances.

Republicans Create Culture War Over… Stoves
Manchin, who is chairman of the Senate's Energy and Natural Resources Committee, used his position to cancel what should've been a routine vote. Jeff Marootian, currently a senior advisor to Energy Secretary Jennifer Granholm, is nominated to serve as assistant secretary of the DOE's Office of Energy Efficiency and Renewable Energy. Marootian can't officially begin that new role until confirmed by the Senate, and he can't move on to Senate confirmation until he passes committee vote.
Enter Manchin and his petty resistance even to reasonable, phased appliance requirements that would make people safer, save people money, reduce disease-causing indoor pollution, and *bonus* help the climate. The Office of Energy Efficiency is the DOE sector behind a proposed rule that would force gas stove manufacturers to comply with more stringent efficiency requirements. The rule wouldn't ban gas stoves, just require new cooktops to not use more than 1,204 kBtu in gas energy annually. About half of all the appliances currently on the market would be unaffected, according to Granholm's comments during a House Appropriations Committee hearing in March.
Regardless, to punish the DOE office for daring to work toward its assigned mission of transitioning the U.S. to a cleaner energy economy, Manchin opted to shut down the Marootian's nomination proceedings in protest. This is the second time Marootian has been up for the assistant secretary role. During the last round, he made it through Manchin's committee, but his nomination never got to the full Senate. The Senator's new stance represents a significant reversal.
"While I supported Mr. Marootian's nomination in December, since then the office he's been nominated to lead has proposed stove efficiency rules that I've raised concerns about," Manchin said in a statement to multiple news outlets. "While I appreciate that these rules would only apply to new stoves, my view is that it's part of a broader, Administration-wide effort to eliminate fossil fuels. For that reason, I'm not comfortable moving forward with Mr. Marootian at this time." Gizmodo reached out to the DOE for comment but didn't receive a response by time of publication.
Friendly reminder: In addition to being an elected representative and a perennial thorn in the side of environmental progress, Manchin is also a verified coal baron who receives ample financial backing from utilities and the "natural" gas industry. It's hard to separate the man's vocal opposition to common-sense gas stove regulation from the fact that he is the single biggest recipient of fossil fuel funding out of all national legislators. Sure, his state has a big stake in the industry, but by and large Manchin's motivations don't seem to stem from helping his constituents. Even the state's coal miners have a bone to pick with their senator's policy stances.
When it comes to full Senate votes, the Democrats admittedly have little sway over Manchin. Thanks to their slim-majority Senate lead, the fossil-fueled politician holds most of the cards. But Manchin's position on Senate committees is a different story. The Dems would be acting fully within the rules if they chose to unseat Manchin from his position as chairman of the Energy & Natural Resources Committee. In fact, there's no law that means Manchin has to be allowed on that committee—where he is clearly tied up in a web of conflict of interests--at all. Committee assignments are mostly determined within the parties. Democrats could take a page out of the GOP playbook and decide that Manchin's actions warrant a removal.
For now, Marootian's nomination—and the leadership of the Office of Energy Efficiency—is in limbo. The newly blocked committee vote is just a preview of what's likely to come. Earlier this month, Manchin vowed to block all incoming Biden EPA nominees until the environmental agency "halt[s] their government overreach." There he goes again: greasing the wheels of fossil fuel profit, while gunk-ing up the gears of necessary climate change mitigation. Too bad the main opponent set to face Manchin in his likely re-election run is no better.