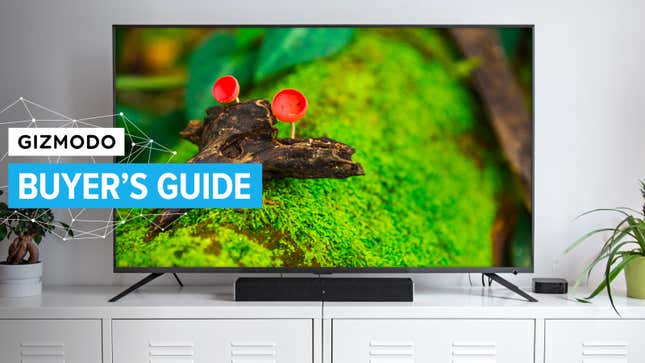 Let's be honest: TVs have gotten so good that even the small and cheap ones look pretty great. But the decision of what TV to buy is more complicated than ever. There's OLED screens and QLED and LED, smart TVs and not so smart, 8K and 4K, and a laundry list of inscrutable features like HDR and VRR. Where to start?

It's Magic: LG's Rollable OLED TV
We'll make things simple. In this article, we've put together a list of our recommendations for the best TVs you can buy right now.
What TV should I buy?
There's something exciting about buying the newest and greatest TV in the store, but the truth is, you may not want or need the high-tech innovations offered by the latest TV models. 8K televisions are the current cutting edge, and they're incredibly impressive, offering four times the resolution of 4K high definition, with approximately 33 million pixels in the display. But they're also total overkill for most users —in order to get an 8K picture, you have to provide an 8K source, and most streaming sources top out at 4k. So unless you really like to live at the bleeding edge of tech, a 4k screen might be best for you.
You want a crisp and clear picture, you want great sound, you want fluid motion... and all these televisions will deliver that and much more. We've tried to cover a number of different price points, too, to give you an option or two whatever your budget.
What TVs are coming in 2023?

In late February, Sony introduced the new 2023 L lineup, and we visited the company to untangle all the new information about the latest TVs. You can read that story here to find out what's coming from Sony, and also what trends are cooking industry-wide, especially in the image processing realm.
Meanwhile, to see what your best options are now, read on. The following options aren't in order—consider them all recommendations. As for the prices mentioned on each one, they reflect what we're seeing online at the time of writing, and you may see different deals and offers when you're doing your own shopping.
---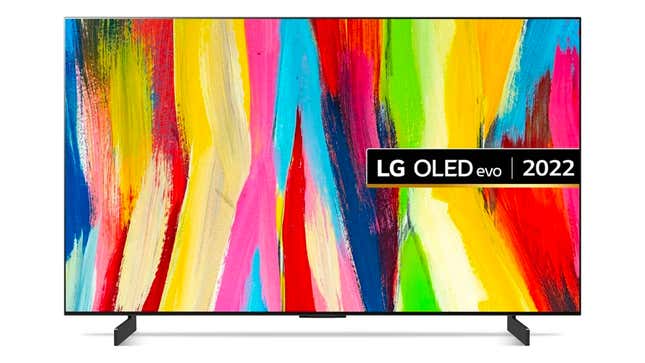 Available sizes: 42, 48, 55, 65, 77, 83 inches
Display tech: OLED
Starting price: $1,400
The LG C2 OLED Evo 4K has been earning rave reviews from just about everyone who's tried it, and it's easy to see why: You get superb brightness and particularly contrast (as you would expect from an OLED panel), you get a top-end processor for object enhancement and dynamic processing, and you get a super-slimline, minimal design.
Available sizes go from the plenty large enough 42 inch to the simply gigantic 83 inch, with the 4K, 3840 x 2160 pixel resolution consistent throughout. You get some very decent HDR support as well, compatibility with the eARC standard for soundbars, and integrated 2.2-channel audio that offers a total of 40W of output together with Dolby Atmos support.
You've got four HDMI 2.1 ports to plug all of your various devices into, and the webOS software that comes on board the television is actually not bad either (you might not even need to plug anything in). For an outstanding picture with a punch, and action that grabs you, the LG C2 OLED Evo 4K is clearly one of the best options out there at the moment.
---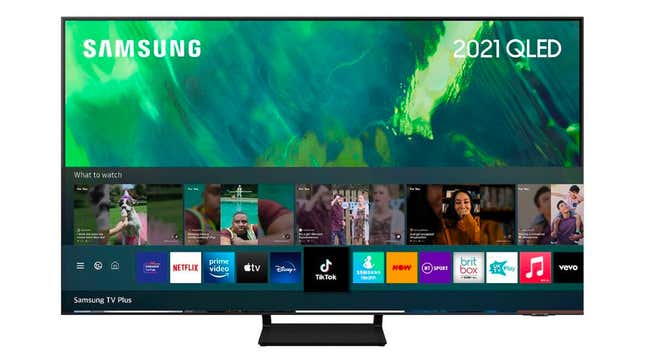 Available sizes: 55, 65, 75, 85 inches
Display tech: QLED
Starting price: $950
Samsung is a name you can rely on when it comes to televisions, and with the Q70A QLED 4K, we have a set that checks a lot of boxes. It offers a 3840 x 2160 pixel resolution, extensive HDR support, eARC compatibility, three HDMI 2.0 ports and one HDMI 2.1 port, and 40W of built-in 2.2 channel audio that intelligently optimizes itself in real time.
The QLED technology is Samsung's own take on an upgrade to LED, with an extra Quantum attached in front: It's intended to create superior brightness and contrast through the addition of a quantum dot filter on the standard tech. Here, an extra Dual LED backlighting system also aims to provide deeper contrast and more accurate colors.
One of the key features here—and one that applies particularly to sports—is the way the picture can be adjusted on the fly via the on-board processor to match what you're watching and the conditions (like brightness) in the room you've put it in. Add in the fast 120Hz refresh rate and it's perfect for anything where images are moving quickly.
---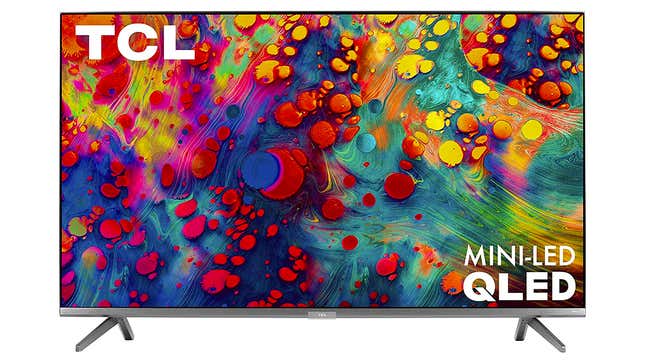 Available sizes: 55, 65, 75 inches
Display tech: Mini-LED QLED
Starting price: $950
Stylish and packed with features, the TCL 6-Series Mini-LED QLED 4K scores highly in just about every department, and would be a perfect pick for Super Bowl day. It's also cheaper than many comparable sets of the same size and resolution, which of course counts in its favor—as does the superior brightness and color you're going to get from this model.
TCL uses the same QLED technology as Samsung (see the previous TV in our slideshow), while the Mini-LED approach means dimming that's more precise and sharper across the screen. It all adds up to a vivid and rich 4K (3840 x 2160 pixel) picture, with great HDR standards support and four HDMI ports (two with HDMI 2.0 and two with HDMI 2.1).
This set can actually be found with either Google TV or Roku TV software on board, so take your pick. As far as audio goes, you've got two 15W speakers built in, plus options (including eARC) for connecting up separate audio devices. It handles motion very well too—very handy for sports of course—and maxes out at a 120Hz refresh rate.
---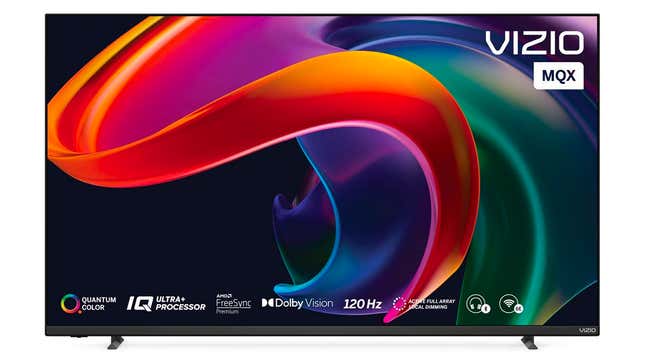 Available sizes: 50, 65, 75 inches
Display tech: QLED
Starting price: $600
Come for the very affordable price, stay for the quality of the video you're going to get on this—whether it's watching movies, games, or sports. The Vizio MQX Series QLED 4K is capable of making almost anything look good on screen, and it's particularly adept at improving the visual appeal of content from lesser quality sources.

As for key specs, the 4K (3840 x 2160 pixel) resolution tops out at 120Hz (and even more if you're willing to dial that resolution down), there's support for Dolby Vision, HDR10+, and AMD FreeSync Premium, and you get four HDMI 2.1 ports to make use of. Support for eARC is included as well, and there are a couple of 10W speakers built into the television too.
Thanks to the QLED technology and the integrated processor, you get very decent contrast and brightness for the price you're paying, and there's good uniformity across the screen as well as intelligent HDR handling. That speedy refresh rate means that sports are going to come across as slick and fluid, and the television also handles reflections very well.
---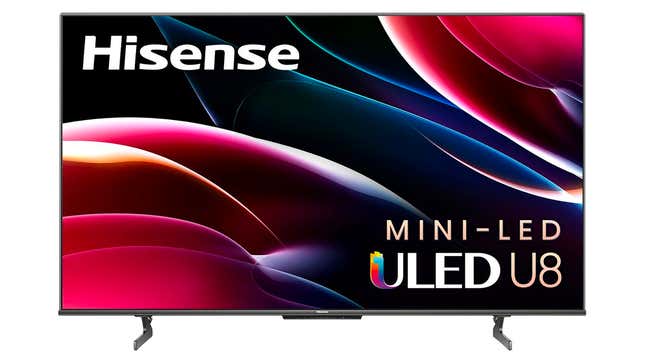 Available sizes: 55, 65, 75 inches
Display tech: Mini-LED
Starting price: $650
With fluid motion handling and excellent brightness levels, the Hisense U8H Series 4K is a fine choice when it comes to watching sports—and it handles everything else pretty well too. The Mini-LED technology brings contrast levels that are almost as good as OLED without sacrificing quality in other areas, and Dolby Vision and HDR10 are also supported.
This television set can output up to a 4K (3840 x 2160 pixel) resolution at up to a 120Hz refresh rate, and it's more than competent at upscaling sources that are coming through at a lower resolution too. There are four HDMI ports (two HDMI 2.0 and two HDMI 2.1), eARC compatibility, and a pair of stereo speakers outputting 20W in total for built-in sound.
The design of the TV is fairly unspectacular, which suits us just fine, and you get the Google TV software on board—one of the better integrated software options on the market at the moment. It's versatile, it's fluid, it's bright, and then there's the price: This set proves that you don't necessarily have to pay top dollar to get one of the best TVs.
---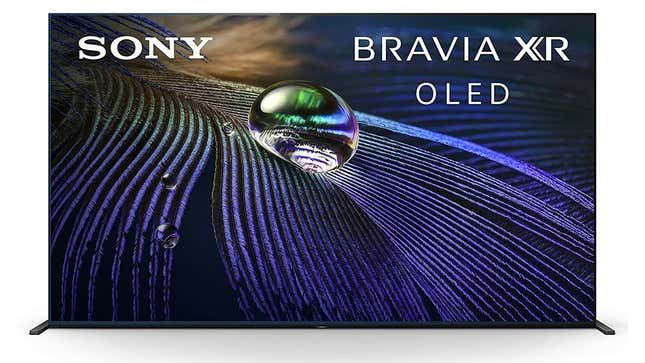 Available sizes: 55, 65, 83
Display tech: OLED
Starting price: $1,800
Sony has been putting out high-quality Bravia TVs for many years now, and the A90J is a really good choice for all your content consumption, assuming you have the budget to afford it. This is a cut above most similar sized sets in terms of price, but it also has enough about it to justify the additional expenditure.
Every aspect of this TV is superbly done, from the real time image processing and optimization, to the fantastic contrast, deep blacks and vivid colors provided by the OLED panel, to the implementation of HDR (HDR10, HLG and Dolby Vision are all supported). The picture itself is a 4K, 3840 x 2160 pixel one, with all kinds of customizations available.
Those customizations cover motion smoothing as well as all the usual adjustments to brightness, contrast and so on. The refresh rate goes as high as 120Hz, there's eARC support as well as the rather unusual option to use the screen itself as a built-in speaker, and four HDMI ports (two with HDMI 2.0 and two with HDMI 2.1), plus Google TV.
---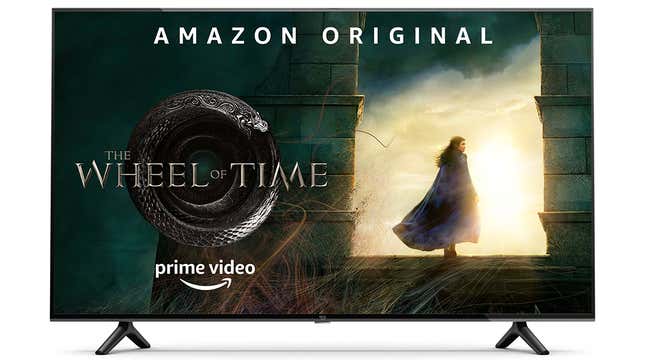 Available sizes: 43, 50, 55 inch
Display tech: LED
Starting price: $260
Our next pick is aimed at those who want to spend as little as possible on their TV upgrade, in contrast to the Sony Bravia option we just mentioned. It doesn't offer the superior screen tech of OLED, QLED or Mini-LED, but it still produces a very decent picture, and it has Amazon Alexa smarts built into it as well.

You do get a 4K, 3840 x 2160 pixel resolution screen with support for HDR 10 and HLG, and a refresh rate up to 60Hz. You're well covered with ports too, with the set offering three HDMI 2.0 ports and one HDMI 2.1 port with eARC support. As far as integrated audio goes, there are a pair of 8W stereo speakers, and the set is compatible with Dolby Digital Plus.
Amazon makes a bunch of smart TV gear of course, and so the Fire TV OS software is better than most, especially when it comes to app support. There's even an Ethernet port here if you want to ensure a rock solid connection to the internet for your streaming needs. Not the best TV you can buy at the moment, but one of those that offers the best value.
---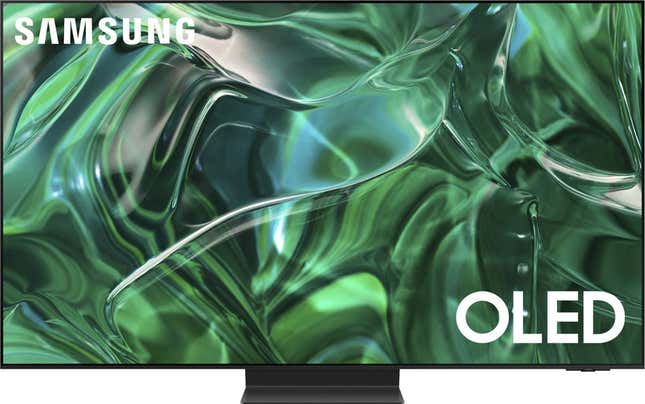 Available sizes: 55, 65, 77 inches
Display tech: QD-OLED
Starting price: $2,500
This is undoubtedly one of the best TVs that Samsung makes right now, and it combines a whole host of technologies – a Samsung QD-OLED display, VRR and FreeSync Premium support, refresh rates up to 144Hz, and plenty more. If you're looking to spend a sizable sum and need a larger set, then this is well worth putting on your shortlist.
Of particular note are the brightness levels that the Samsung S95C can reach: AI is used to adjust brightness on a pixel-by-pixel basis in real time, and the contrast levels are superb as well. Whether you're streaming video or gaming on a console, the Samsung S95C is going to impress, and as an added bonus it can upscale older content as well.
There's plenty to talk about besides the picture as well, with an integrated 4.2.2 speaker system offering superior sound, and four HDMI 2.1 ports to get all of your gadgets connected up. It runs Samsung's Tizen OS, which means you get a good selection of smart apps on the television even before you start connecting up any other hardware.
---
Roku Select Series HD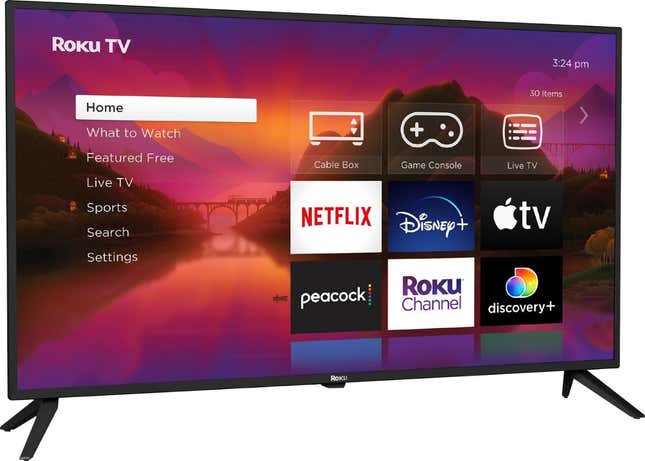 Available sizes: 24, 32, 40 inches
Display tech: LED
Starting price: $150
Not everyone wants the biggest or the most expensive TVs, and the Roku Select Series HD is a fine choice for those looking for something smaller and more modestly priced—it's ideal for a dorm room or a kid's room, for example. And with the Roku software on board, you know there's going to be a vast choice when it comes to streaming apps and content to watch.
You do have to do without the latest and greatest tech, and that includes 4K: But at the smaller sizes these screens have, there's an argument that you don't need 4K anyway (you'd also save you some money on your Netflix subscription by going without). HDR is missing too, and the refresh rate is limited to 60Hz, so be aware of these compromises before buying, especially if you're a gamer or movie buff.
Reading the specs of this TV, you might be tempted to skip the Roku Select Series HD in favor of a beefier but also costlier Roku Plus Series set. But just look at that starting price—cheaper than most smartphones. If you need a simple screen in another room, then you're looking at excellent value for money, as well as an operating system that's a level above most of the software currently on televisions. For beefier sets, you start to compete with Amazon's Fire TVs, while companies like LG are still the reigning champions of premium.

---
Hisense U7H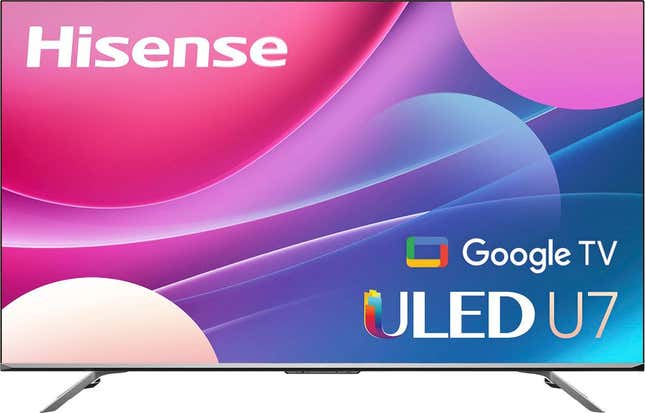 Available sizes: 55, 65, 75, 85 inches
Display tech: LED
Starting price: $550
The Hisense U7H is one of the best value LED TVs you can pick up at the moment, and it covers all the main use cases very well indeed, from sports to gaming to movies. You do miss out on some of the very top-end specs, but there's definitely enough here to produce a picture that most people will be happy with—and at a very competitive price as well.
When it comes to the key specs and features that you're going to want to know about, this television set brings with it a 4K resolution, 600 nits of peak brightness, support for the HDR10+ standard, a Dolby Atmos-capable audio system, two HDMI 2.0 ports and two HDMI 2.1 ports. The Ethernet port and the two USB ports are likely to come in handy, too.
The HiSense U7H is also able to adjust its picture brightness based on the ambient light in the room you're using it in, which is a nice touch. The on-board software comes in the form of Google TV, which is arguably the best option out there right now, and one that will give you access to all of the streaming apps you need as well as Google Assistant.

Overall, this is a great budget set for folks who don't want to buy into the Amazon or Roku ecosystems.
---
LG QNED85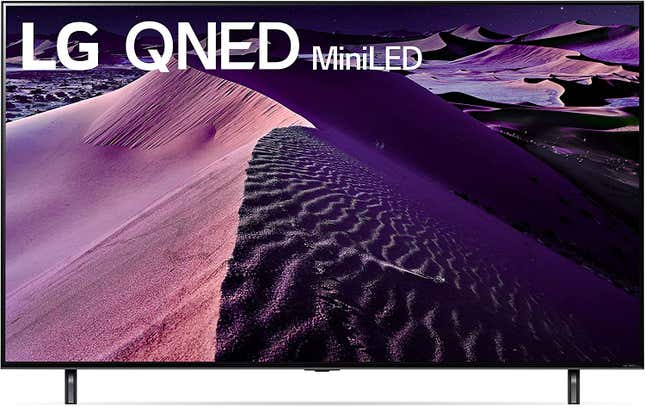 Available sizes: 55, 65, 75, 86 inches
Display tech: Mini-LED
Starting price: $1,200
We've picked out the LG QNED85 series as some of the best Mini-LED TVs available on the market at the moment, and it shows how much improvement there's been in LED technology in recent years: if you don't want to go all out for the pricier OLED technology, then you can still get a television with a fantastic-looking picture, as these models prove.
The miniature LEDs in this set are some 40x smaller than standard ones, which means better brightness and contrast across the board. Color performance is good too, as is the 120Hz refresh rate, and you're well covered for HDR with Dolby Vision, HDR10, and HLG all supported. For gamers, the set is compatible with both VRR and AMD FreeSync Premium.
LG's own webOS provides just about all of the smart streaming apps you could possibly want, while there's also an integrated 2.2 speaker system and four HDMI ports to make use of (two HDMI 2.0 and two HDMI 2.1). It's a real all-rounder that will do you very well in a variety of different environments and connected up to a multitude of different devices.
---
Sony W830K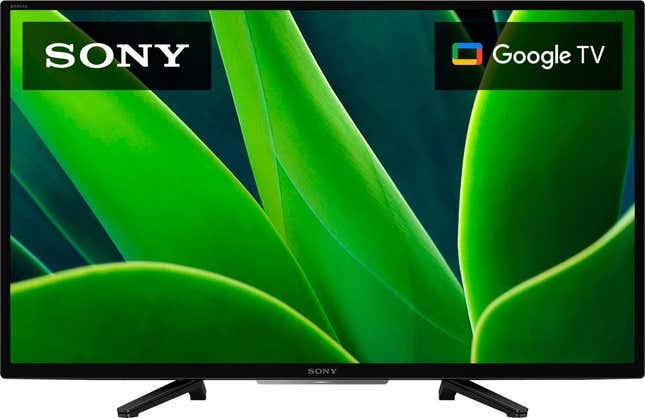 Available sizes: 32 inches
Display tech: LED
Starting price: $370
If you want to go compact and low-budget for your next TV—and a lot of people do—then the Sony W830K gives you a set you can rely on for not much money at all. At the smaller 32-inch size, 4K isn't so much of a priority, and you're still going to get a superb picture: Sony's X-Reality Pro upscaling technology is on board to optimize the display quality in real time.
There's support for HDR10 and HLG in the HDR department, there are integrated speakers with Dolby Audio support and yet more real time optimization technology, and you get three HDMI 2.0 ports to make use of. On the software side, there's the excellent Google TV, with all the apps that come along with it and of course support for Google Assistant.
It's not the sleekest or the thinnest television set that you're going to come across this year, but if you've got a smaller space to fill, then there are a shrinking number of top-quality models that are going to be able to squeeze into it (like phones, TVs just keep getting bigger). You might well be able to find this TV at a discounted price, as well.
---
LG Z2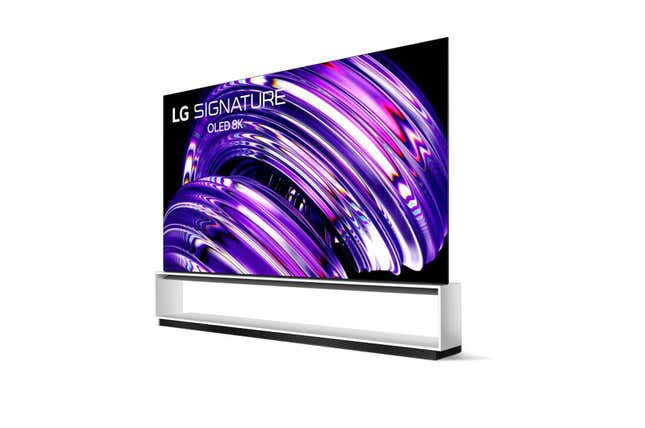 Available sizes: 77, 88 inch
Display tech: OLED
Starting price: $10,000
You certainly don't need an 8K TV at the moment, and you probably can't afford an 8K TV at the moment... but maybe, just maybe... have you just won the lottery? We're aware that this is prohibitively expensive and way too large for most people, but we think you'll be interested in the technology that's coming down the pipe and will one day be the norm.
The LG Z2 puts together the company's fantastic OLED screen tech with an eye-popping resolution of 7,680 x 4,320 pixels. You're going to struggle to find any 8K content around at the moment, but the TV set does a fine job of upscaling content at a lower resolution to look great—thanks in part to a custom AI-powered processor working behind the scenes.
The LG Z2 offers support for the Dolby Vision, HDR10, HLG flavors of HDR. It also supports a ton of gaming features (Nvidia G-Sync, AMD FreeSync Premium, VRR) and boasts a 1ms response time, and there's a 120Hz refresh rate here, too. Even without plugging anything in, the model supports a host of streaming apps and Nvidia GeForce Now cloud gaming.
---
Optoma CinemaX D2

Projection size: 85-120 inches
Starting price: $2,300
You always have the option of installing a projector rather than a TV, assuming you've got enough wall space or a big enough screen, and the Optoma CinemaX D2 is a superb choice that offers plenty of value for money. It can throw up images up to 120 inches in size and at a 4K (3,840 x 2,160 pixel) resolution, and it offers an impressive 3,000 lumens of brightness.
If you're a gamer, you can dial down the resolution to 1080p and get a 4ms response rate and a 240Hz refresh rate, so your games should feel smooth when super-sized. In terms of connectivity, there are three HDMI 2.0 ports to make use of. There are some basic speakers included too, though you'll probably want to use a separate audio system.
The short-throw laser technology used in the projector ensures superior brightness and contrast for your content while reducing the chance for anyone to get in the way of the image, and the CinemaX D2 is rated to have a lifespan of up to 30,000 hours. When it comes to color, there's support for HDR10, and the device can even automatically adjust the picture it's projecting based on the underlying shade of your wall.
---
Epson Pro Cinema LS12000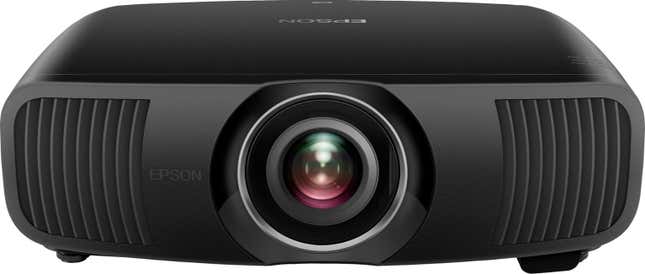 Projection size: 50-300 inches
Starting price: $5,000
If money is no object when it comes to your home theater setup, the Epson Pro Cinema LS12000 is likely to appeal. There's no doubt that Epson knows what it's doing when it comes to projector tech—just look at the number of models it offers and the number of years it's been offering them for—and this offers performance that won't disappoint.
With this projector's Laser Array Light Source system, you get brightness up to 2,700 lumens, and there's support for 4K (3,840 x 2,160 pixel) resolutions at a maximum of 120Hz. Two HDMI 2.1 ports make up the input options, and with a maximum output projection size of 300 inches, you're not going to be struggling to see your movies, shows or video games with this.
With an on-board picture processor installed, the projector excels in terms of contrast and color, and there's support for HDR10+ and HLG technologies in the HDR department too. It's definitely on the more expensive side in terms of this list, but there's no doubting the quality of the components or the specs that are on offer from the Pro Cinema LS12000.
---
XGIMI Horizon Pro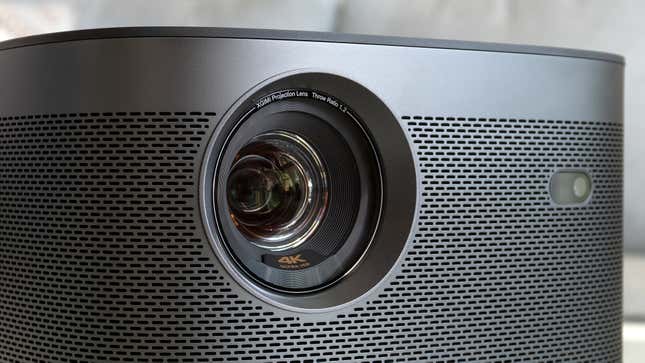 Available sizes: Up to 200 inches
Display tech: Projector
Starting price: $1,700
We'd be remiss if we didn't put at least one projector on this list. The one we're opting for here is on the pricey end, but is competitive with some of the more high-end TVs on the list. What you get in exchange for that cost is a full 4K picture that can stretch up to 200 inches while still staying bright enough to watch during daytime.

You might be tempted to go for a cheaper, ultra short throw projector instead, but those are often so dim during the day that it'll be hard to see. The XGIMI Horizon Pro can instead hit 2,200 lumens, which should be more than enough to ensure a lively view even in a well-lit room.

Meanwhile, that large screen size and projected image will give your viewings a more cinematic feel, and built-in Google TV compatibility and a solid Harman Kardon speaker system will help you stream with ease while making sure you won't be distracted by the admittedly minor dim of the projector actually running.

It's not for everyone, but showing a giant display from a projector might be just the trick you need.
---
This list is updated regularly with new recommendations and product forecasts. Want more of Gizmodo's consumer electronics picks? Check our our guides to the best phones, best laptops, best cameras, and best tablets and eReaders. And if you want to know about the next big thing, see our guide to everything we know about the iPhone 15.